Captivating inlaid imagery, crafted from fine timbers, can transform a functional piece of furniture into a thing of great beauty.
The traditional craftsmen at Bespoke Dining Tables are able to make a table that meets every possible need. From family dining, to fine dining, banqueting hall to boardroom and everything in between, we can help you to acquire the bespoke table you have in mind and make it a reality.
For centuries now, one of the methods used by craftsmen to give a table character and transform it from being just "a table" into a table that people will admire and aspire to, is Marquetry – the art of using small pieces of coloured wood cut into shapes which are then inlaid into the surface of a table, desk or other piece of fine furniture.
Marquetry of one sort or another was practiced as far back as Roman and even Egyptian times and was much admired and sought after by those who could afford it, reaching a peak in popularity in furniture making over a long period spanning the 17th to the 19th centuries, mainly in Europe.
Although machines can help with the repetitive cutting and shaping work the process is still very time-consuming as each piece is painstakingly glued into place by hand. For this reason, bespoke dining tables and other furniture made and decorated in this way can take a long time to produce.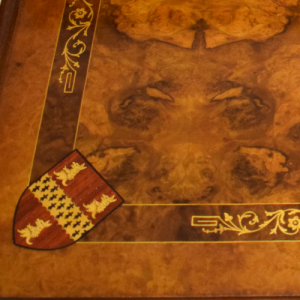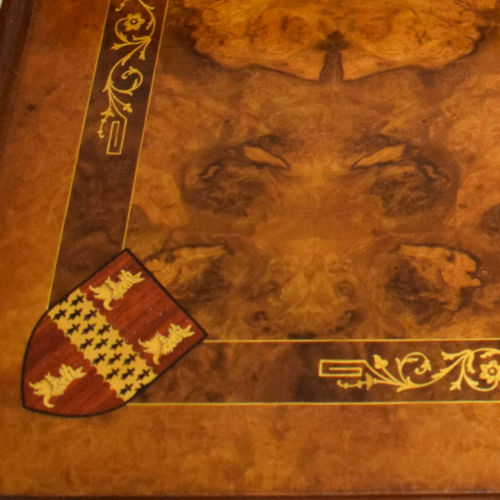 As you can see from the above example, taken from a fine table that our craftsmen created recently for a client who needed a large and impressive table to serve in the boardroom of a well-established and quality conscious business, complete with a personalised crest, the careful choice of woods used for the inlaid work contrasts beautifully with the exquisite burr-walnut from which the main surface of the table is made.
Although our marquetry experts offer the full range of traditional marquetry designs and motifs that have been used for hundreds of years they are also able to cater for the particular needs of our clients. A family coat of arms, a business brand image or logo, dates, in fact almost any one-off design that our clients may require, can be skillfully and effectively transformed into a polished, decorative surface to be cherished and admired for generations to come.
Flowers, birds, animals, religious iconography and scenes from Greek mythology are great favourites when it comes to subject matter for marquetry furniture but more abstract designs are also popular. If you have seen a table, or other piece of furniture that you particularly like and which features a particular style or subject for the marquetry then please feel free to discuss it with us – we are able to accommodate almost any design and incorporate it into the size, style and type of furniture that you desire.
Since we are bespoke furniture manufacturers, we are able to create items in a number of different historical styles. If you need you table to blend with other items which may be from a particular period in furniture history that is not a problem for bespoke dining tables.
We can craft our pieces in the style of the Victorian era, as well as Edwardian, Art Deco and many others. If a piece in the style of the work of a particular maker is required, we can usually accommodate that as well.
Everything, right down to the tiniest detail, including carving fine quality timbers and reproducing traditional decorative imagery is handled by our hand-picked team of craftsmen.
If you have existing pieces of furniture that you would like to be able to match up to when purchasing a new bespoke dining table or other item of furniture then you should certainly pay us a visit, give us a call or drop us an email because our experts would be delighted to discuss your requirements with you and provide you with a personalised quotation for the item of furniture you want, in the style that you desire and decorated with the imagery that you love.
Marquetry furniture of this quality is not commonplace and does not happen overnight – please be prepared to let our craftsmen take their time to produce a thing of beauty that will be exclusive to you and you alone. We know you won't regret it.
Find out more about how we make your bespoke table, here.