How Our Craftsmen Make Your Bespoke Marquetry Dining Table, Chair or Other Bespoke Furniture Item
Producing a bespoke dining table or other bespoke furniture item can take a while and involves the skills and experience of several highly trained and experienced craftsmen so we want to make sure that we get it right – so that you get the unique marquetry table you really want.
First of all we will discuss your requirements with you and agree upon a design for the finished piece. This is your chance to tell us what you want your finished table or chair to look like, how big you want it to be and what kind of finish you are looking for. Most important of all, this is where you can really make the table your own by specifying marquetry decorations that are yours, and yours alone.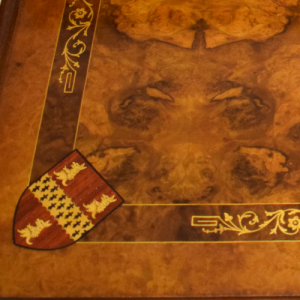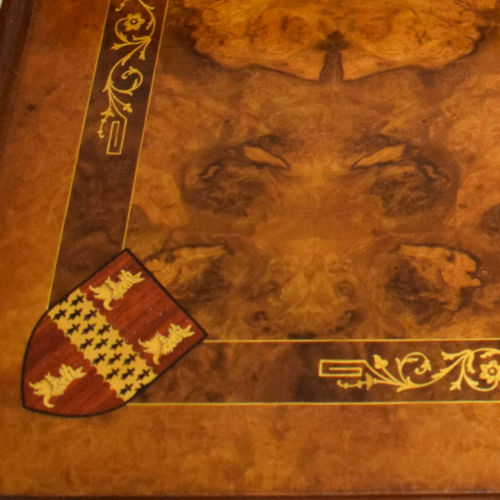 Your family crest or other personalised artwork can be added by our marquetry craftsmen.
We have many examples of tables, and other items of bespoke furniture, that can be used as a starting point for you to envisage what you want your own item to look like.  Once the design is agreed, to your specification, it is drawn on paper, as follows: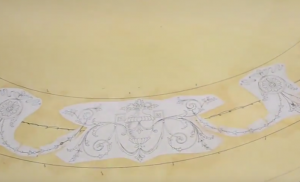 The paper template produced is then be glued to the surface of a sheet of plywood and then the craftsmen attach the veneers to the underside using pins. In total, there can be a maximum of 16 sheets of veneer. In the example shown, there are 8 sheets for the burr walnut and a further 8 for the marquetry. The craftsman or woman then uses a fret cutter fitted with a very fine blade to cut out the marquetry, using the burr walnut and other coloured veneers in order to make the flowers. Nowadays an electric fret cutter is used, although in previous eras the cutters would have been operated using foot power with treadles.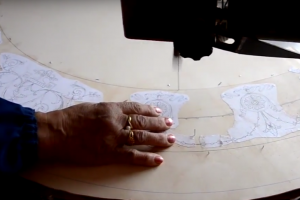 Once the pieces of marqetry are cut out, they are then placed on a large tray.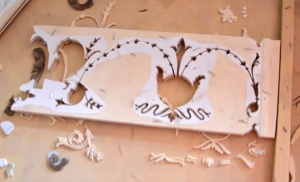 The next process is very interesting – the pieces of veneer are then placed in hot sand that is heated up in a red hot crucible. This gives a singed effect to the wood  which provides different shades to the veneers, the final colouring depends on how deep and for how long they are in the hot sand.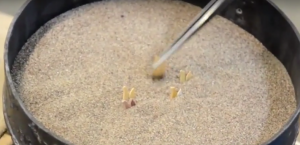 Then, construction of the tabletop commences and the decorative veneer pieces are then painstakingly inserted into the burr walnut one at a time.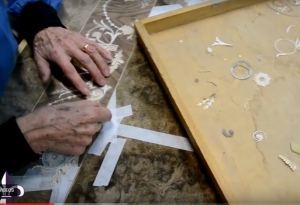 After all of the pieces have been inserted, adhesive tape is placed over them in order to keep them in place. The next stage is to turn it over and place a sheet of glued paper is over them all. The  tape can then be taken off.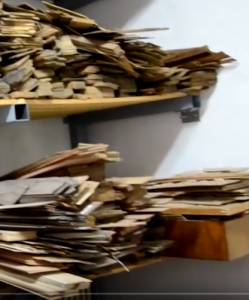 Next, the prepared solid mahogany table is itself veneered with mahogany – twice on the underneath, both horizontally and vertically, and then once on the top itself after which the prepared marquetry and burr walnut sheet is positioned on top and the complete table top is carefully placed into a hot press which will glue it to the table top.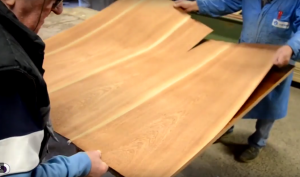 Once this process is complete, it is time to remove the backing paper by sanding it off.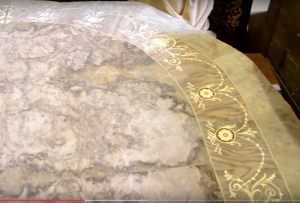 When all of that is done, the table top itself will then be veneered a total of 4 times so as to prevent it from bowing or warping.
Now, finally, the assembly is complete and, a final touch, your bespoke, unique, marquetry table is French polished by hand using only natural products resulting in a very attractive bespoke marquetry masterpiece with a finish that will transform it from a peice of functional furniture into a thing of beauty – a fine bespoke table to admire and to become the centre of attention wherever it is placed.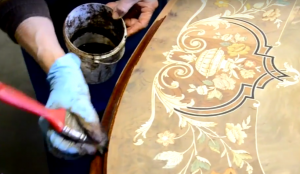 Once completed, your unique bespoke table will be carefully packed and shipped to your destination, anywhere in the world.