This is an absolutely stunning bespoke handmade walnut and mahogany pier cabinet in the Victorian style.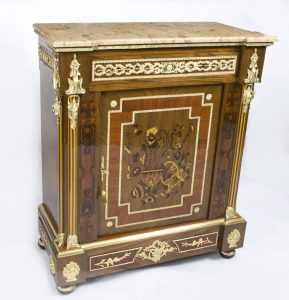 It can be supplied as-is or you can order it with your own choice of personalised marquetry decoration.
This mahogany cabinet features floral marquetry decoration together with lovely ormolu mounts and an eye-catching 'Giallo di Sienna' fine quality marble top.
There is a door to the front which opens to reveal a capacious mahogany cupboard interior fitted with a central shelf.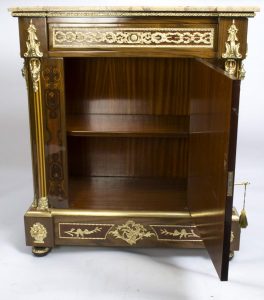 This attractive cupboard measure as follows:
Height 113 centimetres x Width 99 centimetres x Depth 48 centimetres. The dimensions in inches are as follows: Height 3 ft, 8 inches x Width 3 ft, 3 inches x Depth 1 ft, 7 inches.
Further Information
To find out more about this item and to discuss opportunities for a bespoke version to your own specification, please feel free to call our experts on +44 20 8809 9605.
When calling please quote item reference: 02939.
Shipping
Our team of expert packers and shippers can have this item safely packed and on its way to you in almost any location worldwide in no time at all, (although a bespoke version will take some time to make). Please request a shipping quotation before placing your order. UK mainland shipping is free of charge.