Hand crafted in our own workshops in Norfolk and available for viewing at our north London showrooms is this lovely solid oak refectory table and chairs.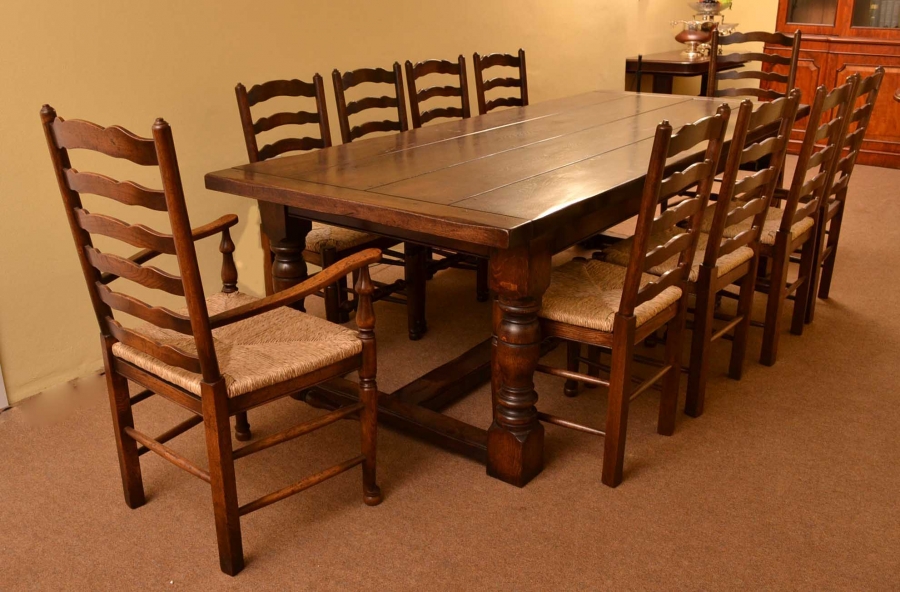 This table is easily capable of seating 10 people in comfort and is supplied with a matching set of 10 chairs – 2 x armchairs and 8 x dining chairs. This is ideal for those larger family get-togethers or for use in a company boardroom or meeting room.
The dining table is very substantial, having been hand made from solid oak and is made in a style that is absolutely typical of the Jacobean period. Jacobean is a term used to describe furniture that was made the reigns of King James I through to King James II.
The dimensions of this particular table are: Height 77cm x Width 107cm x Depth 260cm (2 ft, 6 in x 3 ft, 6 in x 8 ft, 6 in)
However, if that size is not what you need then we are able to supply it in different sizes to suit your requirements – please contact us to find out more and get a quote. That's the Bespoke Dining Tables difference!
The chairs measure 3 feet, 3 inches high x 1 foot, 7 inches wide x 1 foot, 3 inches deep and the armchairs  3 ft, 6 in high x 1 ft, 10 in wide x 1 ft, 4 indeep.
Shipping
Our team of expert packers and shippers can have this item safely packed and on its way to you in almost any location worldwide.
Please request a shipping quotation before placing your order.
Further Information
To find out more about this item or to discuss your own size requirements please feel free to call our experts on +44 20 8809 9605
When calling please quote item reference: 03869a