This example of a bespoke handmade marquetry dining table, made in our own workshops by seasonal craftsmen, is typical of traditional Victorian style dining furniture and may be supplied as-is or inlaid with marquetry to suit your requirements.
The table has been manufactured using traditional tools and methods that date back centuries. The craftsmen involved have chosen select cuts of burr walnut, which is famous for its beautiful grain and which has been French polished to further enhance the eye-catching qualities of such a fine surface.
This table will seat 14 people in comfort and you could easily squeeze in a couple more if need be – there's plenty of room. This would make this table a perfect choice for use in a boardroom or conference room.
We then turn our attention to the unique feature of our bespoke marquetry furniture – the ability to have your item personalised with beautiful marquetry decoration that makes it yours and your alone. A coat of arms, a family crest, a company logo, images of people, places or objects that mean the world to you and which you woul like to preserve with the enduring magic of marquetery.
On this large 14ft table, taken from our ready to ship inventory, you can see examples of the wonderful craftsmanship that goes into our bespoke marquetry tables.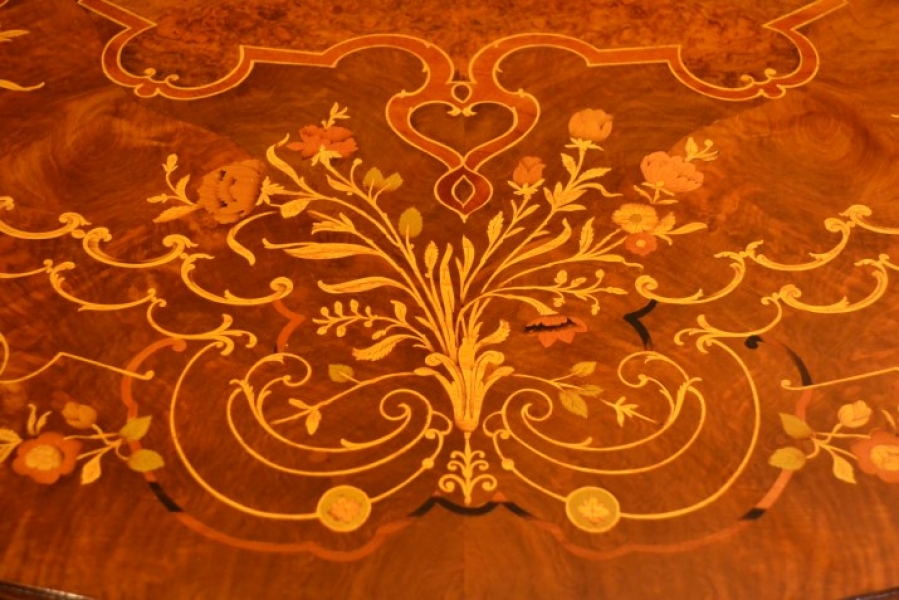 As you can see from the photograph above, this remarkable table is embellished with regal decorations which include bouquets of flowers, vases, swirls and various geometric designs.
Using these images as your guide, just envisage what you would like to see featured on the highly polished surface of this table, or any item from our range, and our craftsmen will make it happen for you. Here's an example of such a table with the personalised decoration based on the customer's family crest: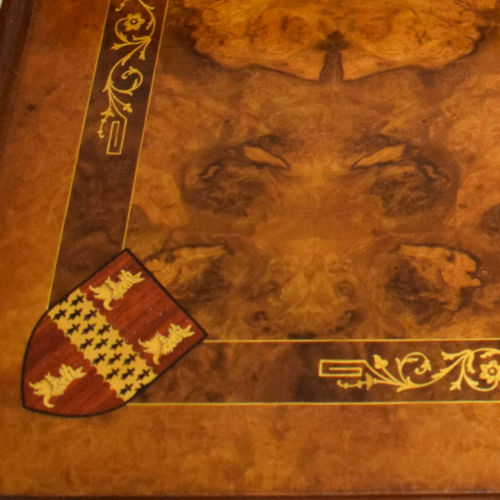 Example of how your bespoke designs can be incorporated into a table like this one
You can be absolutely secure in the knowledge that there will be no other table anywhere in the world quite like the one we create for you.design of this gorgeous burr walnut dining room table with marquetry decoration.
There is no mistaking the fact that this is a large table but it is also very versatile. The basic table is actually a 5ft circular item and is extended up to the full 14ft by way of extension panels which can be added or removed as required by a special double wind out mechanism. The four detachable leaves, if not in use, can be stored away until they are required. By way of support, this table has six elegantly carved legs which terminate in brass castors and which give it great stability – even when fully extended.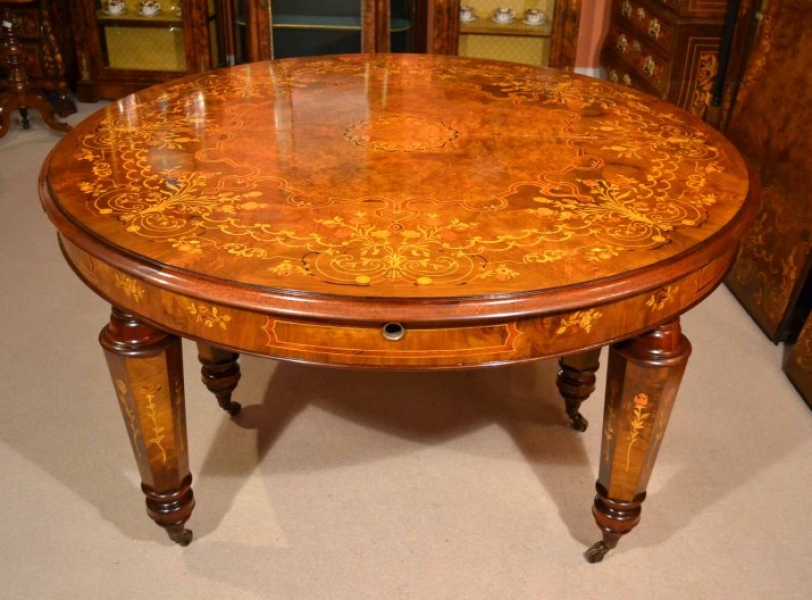 The table in its unextended form – 5ft Diameter.
Please note that the chairs in the photographs are not included in the price but are available to purchase if required.
Condition:
This is a new handmade table with standard, (non-bespoke) marquetry decoration as described.
Dimensions
This table measures as follows:
79 cm high x 430 cm wide x 150 cm deep when fully extended
79 cm high x 150 cm wide x 150 cm deep, (150cm diameter circle) with all the leaves removed
In inches that would be:
2 feet, 7 inches high x 14 feet wide x 4 feet, 11 inches deep when fully extended
2 feet, 7 inches high x 4 feet, 11 inches wide x 4 feet, 11 inches deep (circular) when all the leaves are removed.
Delivery
Our specialist delivery team will arrange for this table to be delivered safely to your location. Please request a shipping quotation if you are outside of the mainland UK, (free delivery in mainland UK).
Ordering and further information
This fine table may be ordered as-is with the decoration as shown. It can be supplied as a bespoke order, with the decoration of your choice and in a range of sizes to suit your requirements. To discuss the options, please contact Bespoke Dining Tables on +44 20 8809 9605 or email us and we would be pleased to provide the information you need and/or a quotation to provide you with your very own Bespoke Dining Table.