This is a bespoke craftsman made Victorian style marquetry walnut dining set which comprises a large burr walnut and marquetry extending dining room table together with a set of eighteen matching walnut chairs. It offers the buyer the option of having bespoke marquetry decoration added to the basic design – at extra cost.
In its unextended form this table measures 180cm in length x 150cm wide and is oblong in shape with rounded corners: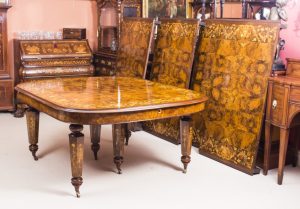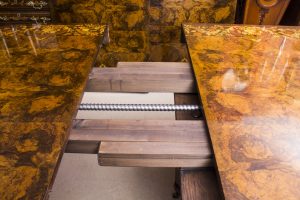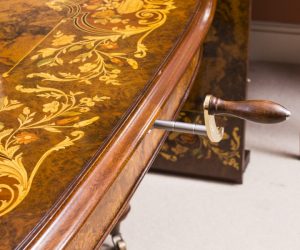 As you can see from the above photograph, there are four extension panels which can be added with the assisatnce of a winding mechanism and which progressively take the table up to its maximum length of  500cm and capable of seating 18 people in comfort.
Please take a close look at the high standard of decorative marquetry that makes this table very special and then iagine it being even more special when you consider that this table can be purchased as-is or made into a truly personalised, bespoke piece by ading your own decorative motifs and designs.
This makes the table, and the accompanying chairs which can also be personalised, ideal not only for families, who could have their family crest added to the design, but also for businesses who could have the table personalised with their product or business logo, mission statement or other identifying imagery.
This is a large and very substantial table and for reasons of stability it stands on six elegantly carved legs which are all terminated with brass castors to enable easy movement.
The full dimensions are:
Height 79cm  x Width 500cm x Depth 150cm – when fully extended
Height 79cm x Width 180cm x Depth 150cm – when completely closed
Height 105cm x Width 56cm x Depth 53cm – 2 Armchairs
Height 105cm x Width 48cm x Depth 46cm – 14 Side chairs
If preferred, the dimensions in inches are:
Height 2 ft, 7 in x Width 16 ft, 5 in x Depth 4 ft, 11 in – when fully extended
Height 2 ft, 7 in x Width 5 ft, 11 in x Depth 4 ft, 11 in – when completely closed
Height 3 ft, 5 in x Width 1 ft, 10 in x Depth 1 ft, 9 in – 2 Armchairs
Height 3 ft, 5 in x Width 1 ft, 7 in x Depth 1 ft, 6 in – 14 Side chairs
To highlight the marquetry, as well as the natural grain of the wood, this table has been expertly French polished by hand.
The matching set of chairs compliment the table perfectly and comprises sixteen side chairs and a pair of armchairs.
The chairs are made of solid walnut and their exquisite burr walnut and marquetry decoration match the table beautifully. An interesting feature is that the drop in seats can be easily removed in hot weather so that the cooler cane seats below can be used.
Shipping
Expert packing and shipping is available to almost any worldwide destination – please contact us for a shipping quotation. UK mainland delivery will be free of charge.
Want to know more?
Do not hesitate to contact us for more information or to discuss your requirements for personalised decoration – the table can also be made in various different sizes.
The contact number is +44 20 8809 9605 – please quote reference number: 08208a when calling.
Please note that the table accessories shown in the photographs are not included in the sale.