Think about fine dining and your thoughts turn to food – the very best ingredients, perfectly cooked.
No one will argue with that but there is another dimension to the overall fine dining experience – the room in which it takes place and the way in which it is decorated and furnished. We can't do the cooking for you, nor can we decorate your dining room or other interior space for you, but what we can do is personalise the dining table on which all of the action takes place so that it reflects who and what you are.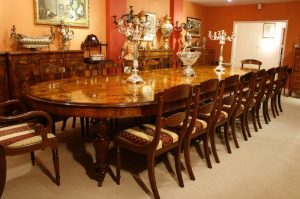 We are talking about something that all your guests will want to talk about – a personalised bespoke dining table made by craftsmen and featuring marquetry decotation that has been lovingly made to your exact specifications.
When you commission a bespoke dining table, or other personalised item of fine furniture, you have the satisfaction of knowing that it will be truly unique – nowhere else on the planet will there be another piece of furniture the same as the one that Bespoke Dining Tables will make for you.