We offer our customers the ability to have a bespoke dining table, conference table or boardroom table made to their exact requirements in terms of size and decoration.
But we also think about such practical matters as storage for your cutlery and, of course, the crockery and table linen. A good sideboard is essential in any well-run dining room and they don't come any finer than our range of bespoke marquetry sideboards craftsman-made from delightfully figured burr walnut.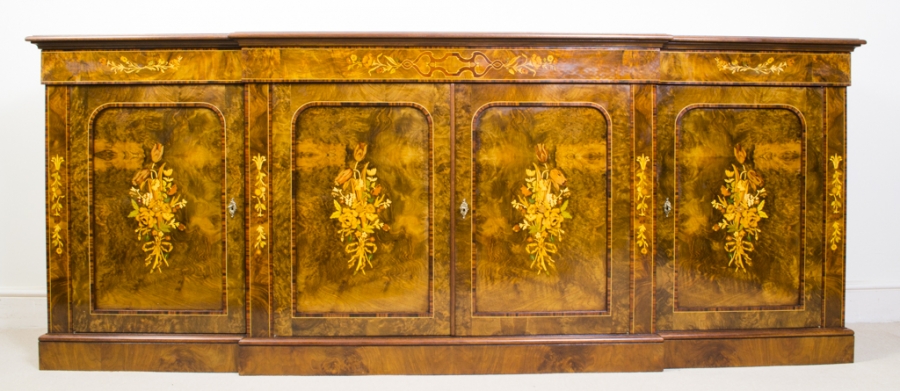 If you are lucky enough to have one of our bespoke tables already in the boardroom or conference room at your place of work, you may have wondered how nice it would be to have some storage close by in which to keep the glasses, cups, plates, water bottles and all those other essential items needed for a succesful business lunch or meeting.
On the other hand, if this sideboard is to be placed in your dining room, then where better to store all your hosehold crockery, cutlery, table linen and other tableware.
Well, here we have the answer – a beautiful burr walnut sideboard which can be supplied as-is or customised with your family crest or company logo and other decorative imagery inlaid into the surface by our marquetry craftsmen.
This sideboard is large and comes with copious amounts of storage in the form of drawers and cupboards.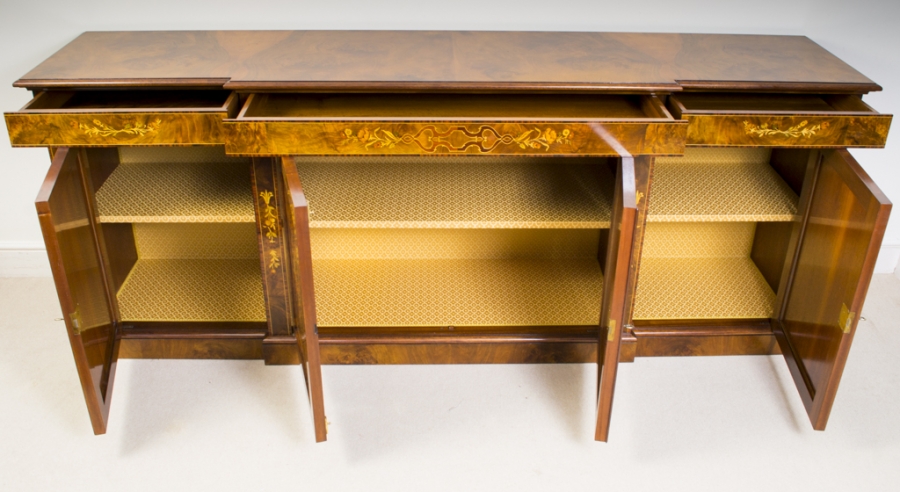 This is an unusually large handmade burr walnut breakfront sideboard which has been made in the Victorian style. The sideboard features four doors to the spacious cupboard together with three drawers. The interior is beautifully lined with fabric. The sideboard has been hand crafted from fabulous burr walnut and features exquisite hand cut floral marquetry decoration.
As a finishing touch, and to emphasis the grain, the sideboard has been French polished.
This is a very large item so please be sure that your intended placement is big enough. The dimensions are:
Height 3ft 5in (105cm) x Length 8ft 8in (264cm) x Depth 1ft 11in (58cm)
Shipping
Our team of expert packers and shippers can have this item safely packed and on its way to you in almost any location worldwide.
Please request a shipping quotation before placing your order.
Further Information
To find out more about this item please feel free to call our experts on +44 20 8809 9605
When calling please quote item reference: 02299
See For Yourself
Viewing
Yiou are welcome to visit our north London showroom and view this item, along with many more that we currently have in stock. If making a long journey, please telephone or email us to ensure that the item you want hasn't already been sold.